Jeter 7200 Compatible File Labels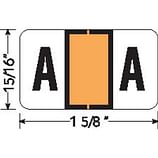 Does your office run like a well-oiled machine, or more like an antique car that stalls frequently as you search for patient files? If it's the latter, it may be time to refresh your office filing system!
Get started with our Jeter 7200 Compatible file labels, which measure 1-5/8"W x 15/16"H before folding. These multi-patterned labels provide a high-visibility, color-coded system for labeling whatever type of files you maintain. Use them for alphabetic organization of patients, clients, projects, or whatever applies to your particular industry.
Vibrantly colored and laminated for durability, these easy-to-read labels are self-adhesive and simple to apply with mid-point alignment marks. They bond reliably to the side tabs of any of paper-based binders or file folders.
Purchase separate letters in 500-label rolls, 240-label packs or one of our other packaging options. If you're just beginning to set up your filing system, consider a complete starter set, which includes 27 rolls of 500 labels per roll, including A – Z plus Mc.
The Supplies Shops customer service team is always on-hand to answer questions or help you place your order. Use our online chat, contact us by email at [email protected] or by phone at 855-632-8520. Don't forget, we offer free shipping on any order over $99.
In case you didn't know, The Supplies Shops can also create superior custom labels tailored to your exact specifications. For more information, click here.
Laminated for protection
500 per roll
240 per package
225 labels in zip top bags
Desk top roll sets
Desk top file box
LABEL SIZE: 1 5/8" W x 15/16"H, Before Folding
---