Col'R'Tab & Tabbies Compatible File Labels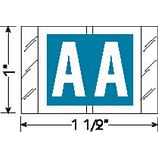 The good news is that your office has moved to a bigger, more beautiful suite, complete with a café latte coffeemaker and gluten-free vending machine. The bad news — it appears that nearly half of the office files lost their labels during the move.
Sounds like the perfect time to spruce up your business' filing system!
Start by purchasing Col'R'Tab or Tabbies Compatible alphabetic labels, both of which offer attractive, easy-to-read color coding systems. Labels may be purchased in individual letter rolls of 500 labels, or for Tabbies, in a complete starter set that includes a 500-label roll of each letter, along with a desktop dispenser.
Tabbies Compatible side-tab file labels measure 1½"W x 1"H and offer a unique pattern in 27 distinctive colors. Laminated for durability, their split label alignment marks make application simple. Col'R'Tab Compatible labels, designed for top-tab folders and files, measure 1½"W x ½"H before folding, have a clear skirted edge and are polylaminated for durability.
Col'R'Tab or Tabbies Compatible labels are ideal for alphabetic organization of patient files in medical or dental offices, project names in construction offices, clients in law offices, or for whatever alpha-based file system you use.
Our courteous and knowledgeable customer service team at The Supplies Shops can help answer any questions you may have about these products or about ordering. Chat with us online, email us at [email protected], or call us at 855-632-8520. Take advantage of our volume discounts and free shipping on any order over $99.
If your office or organization is interested in custom labels, The Supplies Shops can also produce high-quality labels tailored to your exact specifications. Click here for more information.

Specifications
Laminated for protection
27 distinctive colors
500 per roll
Split label alignment marks for easy placement
Desk Top Roll Dispenser
LABEL SIZE: 1 ½" W x 1" H, Before Folding
---