Custom Fileback Sets – Indexes & Filebacks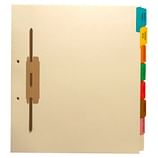 Customize your filing system with custom fileback sets from Supplies Shops. Our custom sets allow you to choose every aspect of your dividers, so you can create the perfect solution for your needs. Pick end or side tabs, top or side fasteners, the number of tabs to be included and printed in each set, the size, color, position and text to be printed on each tab, and more. Then we'll do the rest - creating, custom printing, collating (if you want), and shipping your custom filebacks. Tab titles will be printed on both sides of the colored or clear Mylar in black ink. The custom dividers are built using 110 lb. manila stock and contain pre-affixed two-inch fasteners in the side or top position to facilitate document additions and removals. Dividers are already hole punched and reinforced with tear resistant Mylar, ensuring your custom fileback dividers can be used immediately and will last a long time. Once installed the dividers measure 8 1/2" x 11 1/8" with the tabs extending an additional 3/8". These custom products can be collated into sets or shipped by individual tab titles.

Use custom fileback sets to tackle tricky filing needs. Keep patient information organized, keep client orders neat and tidy, or structure information and instructions in a way that makes sense. Our filebacks make storing and accessing information easier than ever, and with custom options you can create a system that truly works for you.

Easy Ordering Instructions:
Specify End or Side Tabs
Specify Top or Side Fastener
Specify each Tab Color
Specify Tab Cut Size
Specify each Tab position (end tab left to right or side tab top to bottom)
Specify each Tab Title
Specify printed tab 1-side or 2-sided
Specify body copy per tab if required
Specify packaging needs: Collated (titles boxed together in sets) or not collated (each title boxed individually)
Try our Custom Divider Wizard to create custom fileback dividers!

View our Stock Fileback Dividers for quick ship off the shelf fileback dividers.

Or Call us (Toll Free: 855-632-8520) for Custom Pricing!
---