Custom Chart Dividers — Chart Divider Sets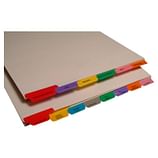 Make sure your charts are efficiently organized with custom chart divider sets from The Supplies Shops. These custom index chart dividers are designed with a sturdy white or manila stock to provide long-lasting durability in busy office settings. By personalizing your divider sets to your needs, you can better keep track of records, forms and other important documents for your business.
Our Custom Divider Wizard allows you to choose all your features when ordering new chart dividers. Various hole punch formats include a two-hole punch at the top and three-hole or five-hole punch on the left or right sides. You can also have the holes reinforced with Mylar tape to ensure maximum file durability.
For medical chart divider tabs, you have the option of positioning them to create end tab dividers or side tabs dividers. Each tab can also be printed on one or both sides and cut to different sizes (i.e. 1/4, 1/6, 1/8). You also have the option of including Mylar colored coating on the tabs for easier reference among different filing categories. Additionally, body copy is able to be printed on one or all of the index sheets.
Options allow your files to work exactly as you need them for maximum efficiency. Our custom chart divider sets can be shipped with each tab title individually boxed or collated in sets ready to use out of the box based on your preference.
Forget about searching through hundreds of premade divider sets to find the right style then printing out tab labels by hand. Our custom chart divider services make it incredibly easy to get the perfect tab file dividers for your needs.
Easy Ordering Instructions:
Specify divider color: White or Manila
Specify punching needs: 2-hole punching at top, or 3-hole or 5-hole punching on the left or right side
Specify tab cut style: End or Side Tabs
Specify tab cut size
Specify tab titles, position (end tab left to right or side tab top to bottom)
Specify printed tab 1-side or 2-sided
Specify body copy per tab if required
Specify packaging needs: Collated (titles boxed together in sets) or not collated (each title boxed individually)
Try our Custom Divider Wizard to create custom chart dividers!

View our Stock Chart Dividers for quick ship off the shelf chart dividers.

Or Call us (Toll Free: 855-632-8520) for Custom Pricing!
---