#3 Envelope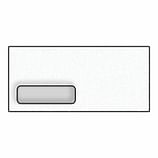 Designed by Americus F. Callahan in 1901 and patented the following year, the design of window business envelopes has not changed much in the last century. Window business envelopes have a hole cut in the front side that is covered with a transparent or translucent film, protecting the letter inside while allowing the paper to be seen. Generally the sending address printed on the letter is visible through the window, eliminating the need for the sender to duplicate the address on the envelope itself.
Business envelopes, also known as commercial envelopes, are characteristically open side style with diagonal seams. #3 window business envelopes measure 3-15/16" x 8-1/4", are made from 24# white sulphite stock and have a poly window.
Business envelopes are used for standard mailing purposes such as:
Business
Direct Mail
Personal Correspondence
Billing
Check Mailings
While historically the smaller sized envelopes were known as commercials and sizes 7 through 14 were called officials, the Envelope Supplies Shop uses the term business envelopes for all sizes.
---