Mylar Tape - Metalized Tape in Gold or Silver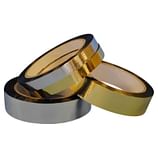 Make a splash with the shiny surface of mylar tape from The Supplies Shops. This metalized polyester film tape is coated with an acrylic adhesive system which exhibits excellent solvent-resistant features and has long-term aging properties. It's also durable enough to handle high heat levels; our metalized mylar tape is able to withstand temperatures in excess of 300 degrees Fahrenheit. It's even UV resistant, so it will continue to adhere strongly and resist fading when exposed to the sun.
Applications for Mylar Tape
This durable reflective tape has many potential applications with appliances, boats and more. In addition, it's popular for use as a decorative trim for photo albums due to its shiny surface. Industrially, this tape is often utilized as a sensing tape in settings where automatic equipment is used. This metalized tape can also be used for electronic detection in identifying roll splices or end of roll splicing in high temperatures. In fact, it's the preferred tape for using when high-temperature labeling, splicing, and holding are required. It's even durable enough to be used with infrared radiation.
Mylar Tape Styles
Choose from shiny gold mylar tape or silver mylar tape when you shop at The Supplies Shops. These metallic tape options are available in various widths and lengths, and we also offer custom adhesive tape solutions for your convenience. You'll get a volume discount on bulk orders and free shipping if your order totals over $99. For more information, get in touch with us at 855-632-8520 or [email protected].
---