1.8 Mil Double-Sided Adhesive Transfer Tape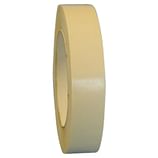 Discover a quick and easy solution for high-temperature applications with this 1.8 mil double-sided adhesive transfer tape from The Supplies Shops. The thin caliper features excellent holding power and flexibility to keep items safely sealed or connected. This double-coated tape is incredibly versatile, making it a must-have for many office and warehouse settings. Learn more about the best ways to use this double-coated adhesive tape and why The Supplies Shops is the best place to stock up on this essential product.
High-Temperature Durability
When it comes to using tape at higher temperatures, it's important to have the right kind of adhesive. This double-coated tape is uniquely suited to withstand heat up to 250 degrees Fahrenheit thanks to its acrylic adhesive application. It's also capable of withstanding quite cold temps down to 10 degrees Fahrenheit and can handle abrupt shifts between extremes. Keep in mind that this is a thin, general grade unsupported adhesive transfer, meaning that it offers solid holding power but is best suited to less critical applications, such as high-temperature graphics and labels.
Where to Buy Double-Coated Tape
The Supplies Shops is the ultimate resource for all your tape needs. This 1.8 mil double-coated paper tape is available in a variety of different widths and lengths to suit your needs. Secure even more savings on our competitive prices by buying in bulk, with discounts starting at just two or more cases. If you're not sure which tape products are right for your application, don't hesitate to get in touch with us at 855-632-8520 or [email protected]. You can also inquire about our custom adhesive tape solutions, including printed adhesive tapes and different various tape backing materials. We offer personalized customer service as well as free shipping over $99 to give you the best experience and the best deal with every purchase.
---