Zebra Printer Thermal Transfer Ribbons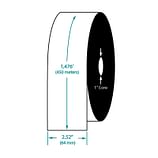 Discover a treasure trove of high-quality thermal transfer ribbons for Zebra printers in this collection from The Supplies Shops. Finding the right ribbon is the first step in tackling your labeling projects. Whether you need thermal transfer ribbons for printing shipping labels, receipts, or barcode labels, you're sure to be pleased with the impressive results from these Zebra compatible products.
Choose from a range of sizes to find the right fit for your needs, whether it's a small width of just 1.57" or a much larger ribbon that measures 6" or more across. You'll also be able to select the right ribbon style to meet your needs, such as a premium resin-enhanced wax barcode ribbon with abrasion- and chemical-resistant properties. Each type of Zebra compatible ribbon has been rigorously tested to ensure excellent durability and reliably for superior print quality on a range of different label materials. Find the right fit for your Zebra industrial printer or desktop printer online today.
---