Sato Printer Thermal Transfer Ribbons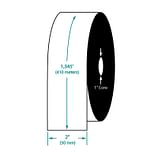 Get a great deal on thermal transfer ribbons for your Sato printers in this collection from The Supplies Shops. With exceptionally high print quality and edge definition, Sato thermal transfer ribbons produce consistently clear, easy-to-read results. Our lineup of products from this trusted brand includes premium resin-enhanced wax ribbons which can be used on coated and uncoated papers, barcode ribbons, Sato printer ribbons and more. Regardless of which type you select, you'll get a halogen-free ribbon that helps contribute to green initiatives and overall safety.
Sato printer thermal transfer ribbons are available in a variety of sizes and styles. Widths start at 1.57" and extend to 3.5" to provide plenty of different options to suit various applications. These ribbons are all designed to help extend the life of the printhead and create highly durable printed images that hold up well in a variety of conditions.
---