Intermec Printer Thermal Transfer Ribbons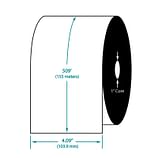 Make your thermal printing projects a success with these Intermec thermal transfer ribbons from The Supplies Shops. Each of these ribbons is specifically designed to be used with a thermal transfer printer. The ribbon material creates crisp and clear printed images and text, ensuring that the results are easy to read and understand. Intermec ribbons feature low printhead energy and abrasion resistance to help ensure that the printing process is smooth and seamless. These thermal printing ribbons can be used in a variety of applications, including resin-enhanced wax barcode printing and printing with an Intermec machine.
Choose from a variety of thermal transfer ribbon sizes when you browse through this collection online. Ribbon widths start at 3" and go up to nearly 5" to accommodate different thermal printer designs and your unique printing needs. And with the competitive prices from Supplies Shops, these ribbons offer a great way to maximize the cost savings that comes with thermal transfer printing.
---