Enclosed Labels - Packing List Enclosed & More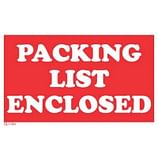 Ever been unsure of what comes in your package? Don't let your customers feel the same way. With this selection of enclosed labels from The Supplies Shops, recipients will know exactly what they should be receiving. This helps to eliminate any confusion about what's inside a package, and avoids unnecessary follow-up calls from your customers.
Our selection of enclosed labels includes a variety of options to suit your specific needs, including packing list enclosed, hardware enclosed, invoice enclosed, small parts enclosed and 23 other labels. Each one features bright colors and clear text to call attention to the label and indicate what is enclosed in your shipment. Make sure important parts are accounted for with enclosed labels. If we can assist you by designing custom labels or other custom products, such as tape, business forms, envelopes or filing folders, let us know at 855-632-8520 or [email protected].
---