Smead Compatible File Labels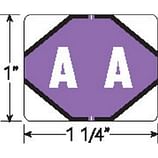 You're meeting your friend Joan at her office for lunch. As you happen to walk past the file room, you're stunned to see perfectly ordered, color-coded shelves of files, with clear alpha tabs gleaming like gems in a dazzling rainbow. You think of your own drab file room, with peeling file labels and missing files. File room envy sets in.
Commit to upgrading your filing system with the same file labels Joan's office uses from Smead. We offer Smead compatible file labels in a variety of color-coded formats, including labels for side-tab, top-tab or hanging files. In addition to durable polylaminated labels, Smead offers paper matte labels for dual-letter filing systems.
Browse the variety of colors and pattern formats, which provide innumerable ways to categorize any volume of files with highly visible, bold-colored tabs. Purchase Smead Compatible labels as individual letters, complete alphabetic sets, starter kits and refill packs.
Banish your file room envy with Smead Compatible file labels, and reap the rewards of enhanced office efficiency.
For help with ordering or any other questions, talk to us via our online chat, or contact our friendly and helpful customer service team. Reach us at [email protected] or call 855-632-8520. Don't forget to take advantage of our volume discounts and free shipping on any order over $99.
Did you know that The Supplies Shops can also create custom-sized and -printed labels tailored to your company's exact specifications? Click here to find out more.
Laminated for protection
13 distinctive colors
500 per roll
Printed alignment marks for easy placement
Desk Top Roll Dispenser
LABEL SIZE: 1-1/4" W x 1" H, Before Folding
---