Jeter 0200 Compatible File Labels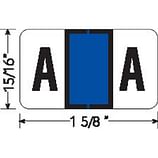 It was one thing when you had to reschedule three patients last week because you couldn't find their files. But now, because the doctor grabbed the wrong file, Mr. Bitterman received a full root canal when he was just supposed to have his teeth cleaned!
It may be time to upgrade your office filing system.
Start with high-quality Jeter 0200 Compatible filing labels, available as single-alphabet, black letters with two different color pattern formats. Each label measures 1-5/8"W x 15/16"H before folding. Vibrantly colored and coated with a protective laminate to ensure their long-term durability, these self-adhesive labels stick securely to your paper-based binders and file folders with side tabs, for quick identification of needed documents.
Jeter 0200 Compatible file labels are ideal for medical care offices and other healthcare facilities, dental offices, or any business that utilizes an alpha-based filing system. Purchase individual letter rolls of 500 labels each, complete packages including all letters (plus Mc), or a convenient starter set that consists of 27 rolls of 500 labels each. Our variety of packaging options accommodates the volume requirements of any type of organization.
If you have any questions about this product or about ordering, chat with us online or contact our friendly and helpful customer service team at The Supplies Shops. Call us at 855-632-8520 or email us at [email protected]. With our volume discounts and free shipping on orders over $99, we enjoy helping our customers realize cost savings on all our products.
In case you're interested in obtaining customized labels, click here to find out more information on how The Supplies Shops can tailor labels to your exact specifications.

Specifications
Laminated for protection
500 per roll
240 labels in ring binder Packs
Desk top roll sets
LABEL SIZE: 1 5/8" W x 15/16"H, Before Folding
---