Blank Fileback Sheets – Indexes & Filebacks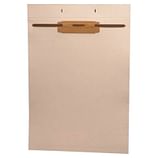 If none of our preprinted fileback sheets fit your needs, you may be better off with blank fileback sheets. Blank fileback sheets from Supplies Shops are constructed with 11pt manila stock and feature a pre-attached two-inch bonded fastener and each divider has a one-inch scored extension. This scored extension allows you to easily fold it over to form a flap that you can hitch on to any fastener in the folder, with each additional fileback divider being attached in the same manner, creating as many sections within the folder as necessary. Any documents can then be revised or removed within each subdivision without having to thumb through the entire record. You may choose from either a side flap or top flap divider, each having a one-inch extended flap. The end position, or top flap divider sheet measures 8-1/2" x 12-1/4" with extended flap while the side position measures 9-1/2" x 11", though both reduce to a standard size of 8-1/2" x 11" once installed in a folder. Blank fileback divider sheets are shipped with 100 per box.

Order your blank fileback sheets at Supplies Shops and save. Order a case of 100 today and stock up on all of your other filing supply needs to take advantage of free shipping on qualifying orders. For help with ordering or for questions, just email us at [email protected] or give us a call at 855-632-8520 and one of our experts will be happy to help.
---