Reinforced Manila Folders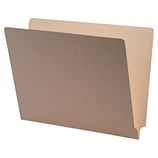 Reinforced Manila Folders for Many Applications
Because they're thick, durable and versatile, reinforced end tab manila folders are the standard for shelf filing applications. They're made of a thicker manila stock material produced from 10 percent recycled material, so you can feel good about your purchase. The durable paper makes these folders well-suited to environments where files are frequently handled, including medical offices, labs, schools and more. When you stock up on manila folders from The Supplies Shops, you can count on free shipping on orders over $99 and personalized customer service to guide you towards the right folder for your needs.
High-Quality Folders with Premium Features
The Supplies Shops offers some of the best manila folder options, including standard manila folders (Barkley style), which feature an end tab with scored tick marks so you can easily apply color-coded labels. The undercut front panel helps aid in the application of individual labels or printed labels and helps makes the label stand out so it's easier to read. These folders also feature a reinforced two-ply tab, scoring for .75 inches worth of expansion and durable 14-pt manila card stock material that makes them great for applications requiring frequent handling.
Need something that goes beyond the standard? We surely have an option to suit your needs at The Supplies Shops. Options include clear pocketed manila folders, interlocking top and end tab folders, expansion folders and even options with "CONFIDENTIAL" printed on the front. If you don't know which style you need and would like personalized advice, we encourage you to reach out to us via e-mail at [email protected] or by phone at 855-632-8520 and we'll try our best to find a folder option that's tailor-made to your needs.
---