Poly File Folders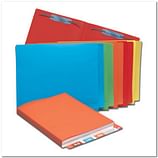 Simplify Filing with Plastic File Folders
Your filing system should be durable enough to withstand the rigors of your unique environment, whether that means being exposed to low levels of humidity, dirt, grease, chemicals or frequent handling. Poly folders from The Supplies Shops are constructed from smooth, tough polypropylene material that's a lot more durable than typical paper folders. The poly material is also easy to wipe clean and won't rip, tear or wear in the face of constant handling. We carry plastic file folders in a range of options to suit your specific needs at The Supplies Shops. Stock up now and enjoy free shipping over $99!
Perfect for More Rugged Environments
The tabs on our poly file folders feature a large labeling area so you can use text and descriptions that are visible and easy to read, even from afar. These folders also have an end tab for easy label viewing as well as a scored front panel for larger files. We make it easy to help you color-code large numbers of files with our colored plastic folders available in green, blue, yellow, orange and red. Each color comes in a pack of 24 so you can create a completely color-coded filing system that accommodates your specific application. Plus, you'll enjoy volume discounts when you buy in bulk from The Supplies Shops.
Some common applications for our polypropylene file folders include outdoor jobs or file storage in the garage or basement, but there are thousands of needs that can be met with these folders. Since they easily wipe clean and can hold up to moisture much better than regular paper folders, they come in handy in more rugged environments. If you aren't sure if plastic folders are appropriate for your application, you can always get in touch with us at [email protected] or 855-632-8520 and one of our team members will be happy to provide personalized support.
---