1/2 Kraft Pocket, Inside Front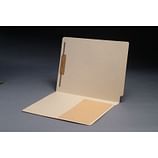 These pocket folders have a 1/2 kraft pocket built into the front, inside panel, perfect for containing small or loose documents.  The pocket has been produced with 100# Kraft and is securely glued in place, making this folder a great option for your filing system.  It also comes with a 2 inch bonded fastener installed in position #1, great for keeping your documents securely in place while filed.  Great for small business and dental or medical office applications.
Specifications:
Reinforced end tab
Tab 3/4" wide
8" x 5" Kraft pocket mounted on inside front
Scored tick marks for label placement
Top corners rounded, front and back
10% recycled content, 10% post-consumer material
11pt manila stock
Front panel 9 ½" high
Fastener position #1
LETTER SIZE: 12 ¼" w X 9 ½" Overall, 11 ½" W Body, inside front pocket.
---