Colored End Tab File Folders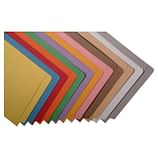 Colored End Tab File Folders
Colored filing folders can help you color-code, organize and file like never before, streamlining and simplifying even the most complex filing jobs. The Supplies Shops offers colored end tab file folders in a wide variety of options to suit your needs. From economical folders in the standard bright colors to linen stock file folders in an assortment of classy hues, there's an option here to accommodate your company and application. Plus, you'll be able to take advantage of free shipping on orders over $99 and personalized customer service when you partner with us!
Our high-quality, standard colored folders are available in 12 different colors and feature a two-ply end tab with scored tick marks for easy application of color coded labels. The undercut front panel helps aid in the application of individual labels or printed labels and helps improve label readability. We also have colored expansion folders that feature a "W" fold that expands to hold up to 1.5 inches of paperwork. We recommend these colorful end tab file folders for medical files, case files and other applications where documents are constantly being added to the mix.
Find the Exact File Folders for Your Needs
The Supplies Shops makes it easy to narrow down our selection so you find the exact file folder for your needs. You can zero-in on your color preference, size, price, basis weight and even the number of fasteners so you get a solution that's exactly right, no compromises. And if you still don't find an option that suits your specific needs, we'll work with you to build a custom solution. Please get in touch with us via e-mail at [email protected] or by phone at 855-632-8520 and we'll be glad to assist you with your order.
---