Mailing Boxes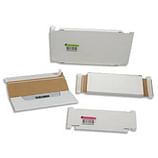 Safely mail your products in Confirmailer® mailing boxes from The Supplies Shops. These lightweight mailing boxes are made strong with N-flute corrugated cardboard. Per-box sizes range from 4.375 in. x 11.5 in. (.375-in. width) and 4.125 in. by 8.625 in. (.75-in. width) to 5.125 in. x 10 in. (.8125-in. width).
Confirmailer® brand sturdy mailing boxes are popular for use as e-commerce mailing boxes. That's because they are lightweight, which can lower shipping costs by weight, and these mailer boxes have easy peel-and-seal openings for added security.
Confirmailer® brand mailing boxes and Confirmailer® mailers are made by the Calumet Carton Co., and are designed with smooth exterior surfaces for easier use of our inexpensive address labels for mailing boxes.
Also shop our line of larger reverse-tuck cartons for storing or mailing your larger items. We have been making it easier to order the best supplies for your business since 2006. We offer free shipping on qualifying orders of $99 or more.
---