Disposable Lab Coats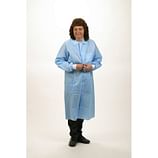 The Supplies Shops is proud to offer high-quality disposable lab coats, lightweight and breathable protection for use in numerous medical, laboratory, food preparation/service and janitorial roles. Our polypropylene or 50 Gram SMS (made from combining brittle and extremely thin meltblown polypropylene layers as a barrier layer between two layers of spunbond polypropylene) are designed to be resistant to water, and to hazardous or non-hazardous chemicals.
Ranging in size from small to 5XL, disposable lab coats come in blue or white, with features such as elastic or knitted cuffs for secure fit, and styles designed with three convenient pockets. Add our Gloves, and Protective Sleeves for situations requiring even more intensive safety precautions.
All the components of these products, manufactured by The Safety Zone, comply with the Federal Food, Drug and Cosmetic Act, which allows their repeated use in direct contact with food as well as in personal safety equipment for medical, food processing and food service applications.
Buy our disposable coats in bulk and save. Also, don't forget that shipping is free for all orders over $99.
Feel free to contact our courteous and knowledgeable Supplies Shops customer service team via e-mail at [email protected] or by phone at 855-632-8520, should you have questions or need order assistance.
---