Reusable Envelopes — Return Envelopes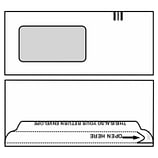 Save money and reduce waste with return envelopes from The Supplies Shops. Our reusable envelopes are designed to be used for both the outgoing piece of mail as well as the return envelope. When mailing the envelope back, the flap reseals for the return trip. This feature cuts down on the need to purchase separate return envelopes and makes the process of preparing a return mailing easier for the customer.
These reusable window envelopes are available in two sizes and have instructions for use printed on them. The compostable and recycled materials offer an environmentally friendly option for mass mailings. Shop at The Supplies Shops to find these and other business envelopes at great prices. We include free shipping on all orders over $99 and offer volume discounts when you buy two or more boxes of 500 return envelopes.
---