Real Estate Envelopes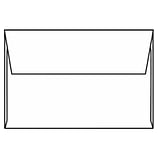 Our real estate envelopes from The Supplies Shops are the right size for large collections of legal-size paperwork involved in today's real estate transactions. These are 10-in by 15-in. #100 white tag envelopes with 3-1/2-in. non-gummed flaps.
Order smooth-finish white real estate envelopes in boxes of 100, with discounts of up to 17.3% for bulk orders. Because of the size of these envelopes, they are also used at law offices and accounting firms to collect and send legal-size papers.
Real Estate Files
Shop our line of six-section classification folders that are ideal for organizing and storing real estate documents. The sturdy 25-point pressboard covers have 2 in.-capacity metal fasteners inside the front and back covers, along with two 17-pt. brown kraft dividers. These file folders have Tyvek expansion gussets and 2/5 cut top tabs.
We carry 8.5-in. by 11-in. 1099-S forms used by Realtors to report gross proceeds from real estate sales. Order laser printer-compatible W9 forms to report real estate transactions to the IRS. These two-sided W9 forms are available in 200-count packs.
Custom Real Estate Paperwork Supplies
We can customize your real estate business labels, envelopes, and folders. We have integrated label forms and printer-specific label sheets. Fewer stores are carrying perforated paper stock, but you can find perforated paper and hole-punched paper supplies at SuppliesShops.com.
Our perforated and hole-punched paper are ready-made for real estate record-keeping, binding, and filing work. Our pre-perforated paper is compatible with laser printers, ink jet printers, and high-speed printers.
Use our regular paper with perforated cards at the bottom of each page for real estate showings and other registration events. For custom orders or help in finding specific real estate office supplies, call our friendly, knowledgeable team at 855-632-8520. It's a toll-free call.
---