Drug Envelopes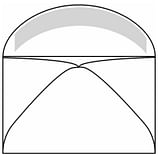 Envelopes come in a wide variety of shapes and sizes designed for specific purposes and not all of them are meant to be mailed. If you're in need of drug envelopes (which are also sometimes called medication envelopes), you'll find exactly what you're looking for at The Supplies Shops. We carry an assortment of drug envelopes in a variety of different sizes to meet your needs.
What Are Drug Envelopes?
Drug envelopes are small envelopes specially designed to hold and organize loose medications in pill or pack form. Typically used by doctors, nurses, pharmacies, rehabs, and other businesses that handle medication, they have a curved flap and feature space on the front for writing important information like name, date, and dosing directions. Drug envelopes help keep takeaway medication distribution accurate and organized.
The Best Drug Envelopes
The Supplies Shops carries high-quality drug envelopes in three different sizes: 2-5/16" x 3-5/8", 1-3/4" x 2-7/8" and 2-1/16" x 3-1/2". Made of 20# white sulphite paper, each sturdy, SFI-certified envelope features a diagonal seam, a remoistening seal, and a smooth vellum finish. Each box contains 1,000 envelopes and you get a volume discount of over 19% when you order 10 or more boxes. You also get free shipping on all orders over $99, so it pays to stock up and save on drug envelopes, business forms, filing supplies, labels, and other paper goods.
If you have questions about how to use drug envelopes or are unsure about how many to order, we're standing buy and are eager to help! Our customer service representatives are happy to assist you however they can. Just send us an email at [email protected] or give us a call toll free at 855-632-8520. You can also ask us about our customization options, which include custom-printed envelopes, business forms, adhesive tape, printed labels, and more
---