Money Gift Envelopes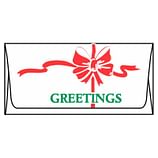 Want to give the gift of cash or checks? Check out this selection of money gift envelopes at The Supplies Shops. Our currency gift envelopes are available in both plain white and pre-printed styles featuring a ribbon design. These money gift envelopes are made from 24# white sulphite paper. Each one measures 2-3/4" x 6-5/16", making them the ideal size for U.S. currency. All designs feature an oval cutout that displays the envelope contents when the front flap is raised.
Need to send your gifts through the mail? The Supplies Shops also offers an outer envelope that the currency envelopes can be placed inside for extra security when mailing them out. If you don't find what you're looking in this collection, consider using our custom envelope design services to get the perfect products for your business needs.
---