Church Offering Envelopes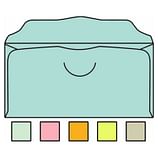 If you're in charge of collecting cash and checks at church or during charity events, you should stock up on church offering envelopes from The Supplies Shops. We carry a variety of colors and styles to help you stay organized, all at low discount prices.
What Are Church Collection Envelopes?
Envelopes come in a wide variety of shapes and sizes designed for specific purposes. Church collection envelopes are specially designed to hold cash and checks and are frequently used during fundraising, charity events, fairs, and any other occasion involving money collection. Church collection envelopes feature blank space on the front and back where you can jot down names, notes, and other helpful information about the funds you are collecting.
The Best Church Collection Envelopes
At the Supplies Shops, we offer a variety of high-quality church collection envelopes for less. Made with #20 colored sulphite paper and measuring 3-1/8" x 6-1/4", they come in eight different colors: white, gray, blue pastel, green pastel, pink pastel, goldenrod pastel, canary pastel, and cream pastel. Each envelope features a spot seal and half circle die cut for easy opening, as well as a scalloped flap. They're also SFI-certified and have a smooth vellum finish. Each box contains 100 envelopes and you get a volume discount of over 14% when you buy 10 or more boxes. You also get free shipping on all orders over $99.
Not sure what type of envelope best suits your needs? We can help. Our customer service representatives are eager to assist you in finding the paper, mailing, and money collection products you're looking for. Send us an email at [email protected] or give us a call toll free at 855-632-8520. You can also ask us about our many options for customization, including custom-printed envelopes, business forms, adhesive tape, printed labels, and more.
---