Bank Envelopes - Bank Deposit Envelopes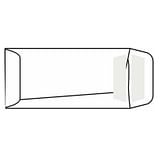 Stock up on bank envelopes for your business when you shop at The Supplies Shops. Our bank deposit envelopes are designed specifically to function with drive-in teller vacuum systems. Use these envelopes to provide safe and secure transactions at your bank or within your office. With a variety of designs from which to choose, it's easy to find the right banker envelope size and style to suit your needs.
Secure Bank Cash Envelopes
Security is the top priority when you're choosing envelopes for the bank. These bank money envelopes are made from 24# white sulphite stock to carefully conceal what's inside and provide a durable enclosure for your checks and cash. You can choose between open-end envelopes, which allow for checks, cash, and other documents to be inserted through the short end of the envelope, or open-side envelopes that have an opening along the top similar to a standard business envelope. Our inventory includes both un-gummed flaps as well as Pres-Stik adhesive for efficient and secure sealing. All envelopes measure 7" wide and either 3-3/4" or 3-1/4" long.
Great Deals on Office Envelopes
At The Supplies Shops, we make it easy to find deposit envelopes and bank by mail envelopes at affordable prices. Shop now to get bulk discounts along with free shipping on orders over $99. We can also provide custom printed envelopes if you need something that you can't find in our selection. For more information, reach out to our expert customer service team at 855-632-8520 or [email protected].
---