Auto Invoice Envelopes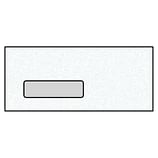 Are you a business manager tasked with sending out checks or invoices? Whether you work in an automobile shop or a corporate office needing to send these documents, you can make sure that tedious mailing tasks are easier than ever to organize with auto invoice envelopes from The Supplies Shops. These #9 auto invoice envelopes are specially designed with a poly window to display mailing addresses on paychecks, invoices, bank statements, and more.
What Are Auto Invoice Envelops?
Automobile invoice envelopes are designed to carry computer-generated documents that feature a recipient's name and address, such as a bank statements, invoices, and printed checks. They feature a clear poly window that allows the mailing address on the printed document to be visible to the postal carrier, eliminating the need for an address label. Available in a standard #9 size, they help make the mailing process more streamlined and efficient.
The Best Auto Invoice Envelopes
At The Supplies Shops, we carry high-quality auto invoice envelopes that look clean and professional. Made of 24# white sulphite paper and measuring 3-7/8" x 8-7/8" in size, they feature a smooth vellum finish and a classic diagonal seam, as well as a Blue Wesco inside security tint. They also have a brightness rating of 92% and are SFI certified.
Each box contains 500 envelopes, and you get a volume savings of over 17% when you buy more than five boxes and a volume savings of over 21% when you buy more than 20 boxes. Plus, we offer free shipping on orders over $99, so it always pays to stock up and save.
Not sure what type of envelope best suits your needs? We can help! Just send us an email at [email protected] or give us a call toll free at 855-632-8520. Our customer service representatives are standing by and eager to assist you with all your envelope and paper needs. Looking for customized options? Check out our custom-printed envelopes, business forms, adhesive tape, printed labels, and more.
---