Square Envelopes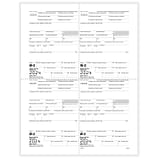 Square Envelopes
Make your announcements impressive and eye-catching by sending them in a square envelope personalized to your needs. Square envelopes are a particular style of announcement envelope with a deep square flap and double-side seam construction. With their modern look and practical design, you can project an elegant yet up-to-date appearance for important notices.
Square envelopes are commonly used with baronial cards for informal mailings along with social invitations, greeting cards and commercial announcements. Couples often use square wedding envelopes and anniversary announcements — a fitting choice given the balance and harmony they represent. Purchase square envelopes in bulk from The Supplies Shops for day-to-day business use or special events and promotional campaigns where you need a striking mailer.
Custom Square Envelopes
Our square envelopes are made with 28# white sulphite paper and come in various square sizes. Shop for 5"x5" envelopes, 6"x6" envelopes and more — in-stock sizes go up to 13"x13" envelopes for the biggest announcements. We use SFI-certified 92% brightness card stock with a remoistening seal. Bulk announcement envelopes may have a center seam or side seam depending on the size. You can order basic square envelopes or customize them with return addresses, windows, borders and more — call us toll-free to get a quote.
Business Envelopes Made in the U.S.
Square invitation envelopes are perfect for that formal look when sending invitations, R.S.V.P. cards or company greetings. The Supplies Shops also offers the panel cards that would fit these envelopes. Purchase both in one place and save money with our volume discounts and free shipping on orders over $99. We have the largest catalog of commercial envelopes for any occasion with personalized service — call us toll-free at 855-632-8520.
---