Gladstone Envelopes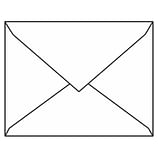 Find elegant invitation envelopes that look stylish for any occasion at The Supplies Shops. A Gladstone envelope is a particular style and size of an announcement envelope. It features a large, pointed seal flap and diagonal seams for a classic look with a modern twist. The smooth surface of these baronial-style envelopes is perfect for capturing crisp and sharp images for everything from simple addresses to dynamic designs and logos. Gladstone envelopes measure 3-9/16 inches by 5-9/16 inches in size and are made with 24-pound white, acid-free sulphite paper.

Invitation Envelopes in Bulk
When you need to get a special message out, use Gladstone envelopes to send it. They're most commonly used for greeting cards or social stationery. They can be used for simple everyday cards, business announcements, party invites and much more. With Gladstone Baronial envelopes, you'll get an upscale look that's appropriate for fancier occasions as well, such as weddings and social galas. The size can accommodate a separate RSVP card in addition to your main invitation or announcement. The Supplies Shops also offers the panel cards that would fit these envelopes.
Our standard Gladstone envelope is blank white with a remoistening seal. However, we can create a custom baronial envelope for your organization or personal event. Request a pre- printed return address, clear poly window, business logo and other personalized features. For information about custom-printed envelopes, contact The Supplies Shops at [email protected] or call 855-632-8520. Whether you go with standard or custom stationery, we have bulk pricing plus free shipping on qualifying orders, so elegance doesn't have to be expensive. And remember, we also offer customization services for adhesive tape, file folders, business forms and printed labels.
---