#A-9 Envelopes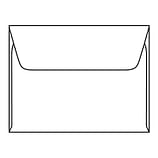 If you're on the hunt for high-quality A9 envelopes, The Supplies Shops has what you need. Most commonly used with baronial cards for social and commercial announcements, these types of envelopes are must-haves for any household stationary collection. They're great to have on hand for all kinds of occasions and applications, including letter writing and sending homemade cards.
What Are A9 Envelopes?
Envelopes come in a wide variety of shapes and sizes designed for specific purposes. A9 envelopes feature deep rounded flaps and double-side seam construction for a classic and polished look. They're perfect for sending greeting cards, wedding invitations, R.S.V.P. cards, birth announcements, DIY notes and letters, and more. Because of their multipurpose nature, it's helpful to have a stock of these envelopes on-hand in your household, especially if you like to write letters or have kids who love to send homemade cards and crafts.
The Best #A9 Envelopes
When you shop at The Supplies Shops, it's easy to stock up on high-quality envelopes for all your social occasions, business events, and greeting card needs. Our #A9 envelopes are 5-3/4" x 8-3/4" in size and constructed with the highest quality 24# white sulphite paper. They come in a variety of quantities, including cartons of 1,250 and boxes of 500, and you get a volume savings of over 12% when you order 20 or more boxes. You also get free shipping when you spend more than $99!
If you need cards to fit inside your A9 envelopes, or have questions about any of the paper products we carry at The Supplies Shops, let us know! Our friendly customer service representatives are always happy to help — just send us an email at [email protected] or give us a call toll free at 855-632-8520. You can also ask us about our custom-printing supplies, including custom-printed envelopes, business forms, adhesive tape, printed labels, and more.
---