#5 Baronial Envelopes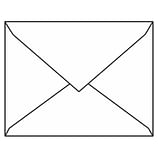 If you're in need of #5 baronial envelopes for greeting cards, invitations, R.S.V.P. cards, and other types of social correspondence, look no further than The Supplies Shops. We carry high-quality #5 baronial envelopes in a variety of paper weights and quantities to suit your needs.
What Are #5 Baronial Envelopes?
Envelopes come in a wide variety of paper weights and brightness ratings designed for specific purposes. #5 baronial envelopes feature large, pointed seal flaps and diagonal seams and are most frequently used for invitations, social announcements, and greeting cards. They have a sophisticated and refined look that's perfect for formal occasions such as weddings, graduation parties, christenings, and more.
The Best #5 Baronial Envelopes
When you shop at The Supplies Shops, it's easy to stock up on high-quality envelopes for all your social occasions, work events, and greeting card needs. Our #5 baronial envelopes are 4-1/8" x 5-1/2" and feature an attractive, classic construction. Made with white sulphite paper that has a brightness rating of 96% to 98%, they feature a smooth, vellum finish and a traditional diagonal seam. Choose from small box quantities of 250 #5 baronial envelopes or order bulk cartons of 5,000 #5 baronial envelopes.
Need note cards to go with your envelopes? No worries! We also carry panel cards to fit #5 baronial envelopes in a variety of styles and colors, including embossed and non-embossed options. And when you stock up on panel cards and envelopes at the same time, you save! The Supplies Shops provides free shipping on all orders over $99, which means it pays to buy in bulk.
Not sure what type of envelope you need? Our friendly customer service representatives are standing by and eager to help you find the best options for your needs. Send us an email at [email protected] or give us a call toll free at 855-632-8520. You can also ask us about our custom-printing supplies, including custom-printed envelopes, business forms, adhesive tape, printed labels, and more.
---