Interactive Direct Mail Supplies – Peel 'n View Envelopes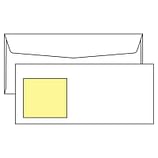 Tired of worrying whether recipients of your direct mail marketing letters and kits are going to toss them into the trash? Now you can improve the success of your interactive direct mail campaigns with our Peel 'n View envelopes. Featuring hidden windows and detachable notes, the clever envelope design solves one of the most challenging issues for marketers – how to create instant curiosity for prospects. It also helps ensure your interactive direct mailer will stand out among all the other mail. This design follows the keep it simple formula, and it works because it doesn't come across as too over the top. Want to add custom copy to your order? No problem! Just send us an email or give us a call and we'll help you create an eye-catching mailer that's customized just for you.
Capture Attention with Detachable Notes
Enticing people to open interactive direct mailers is an ongoing challenge for marketers. While some ideas work better than others, one sure-fire way to create instant curiosity about your mailing piece is to use special direct mail envelopes featuring detachable notes. Imagine how you would react to receiving an envelope with a yellow or white sticky note attached. Would you be curious enough to follow the text prompt, lift up the note and look at the surprise inside? We're guessing the answer is yes, and if so, you now know exactly how the recipients on your list will feel if you send out this type of marketing mailer. Interactive direct mail doesn't get any easier than this when you use these highly engaging envelopes.
Multipurpose #10 Size Envelope
Due to its overwhelming popularity, all of our Peel 'n View envelopes are made in the #10 size. This business envelope size is used by countless companies and individuals, so recipients are quite familiar with it. Peel 'n View envelopes in the #10 size also give your marketing pieces a professional look.
Viewable Right Window Style
In addition to styles that just feature the peak-a-boo hidden window, we also offer an alternative envelope featuring a second window. This window is larger and appears on the lower right side of the envelope, allowing postal workers and recipients to get a crystal clear view of the mailing address.
Custom Products and Free Shipping
Don't forget that The Supplies Shops also offers custom labels, custom envelopes, and custom filing folders, as well as easy-to-use custom business forms. We also give you free shipping on all orders over $99, which means you'll save big when you buy in bulk. Do you have questions? Contact us by email at [email protected] or call us toll free anytime at 855-632-8520. Our customer service representatives are standing by and always happy to help you get exactly what you need.
---