Printed Medical Envelopes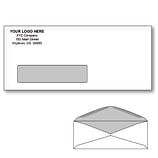 Take the guesswork out of shopping for quality medical envelopes with this selection of printed medical claim envelopes. At Supplies Shops, you can find professional quality white wove envelopes designed for CMS 1500 claim forms. In addition to the classic envelope design, you also get your envelopes custom printed with your business name, logo, and return address details. Stock up on your preferred style today and take advantage of our wholesale discounts for ordering specific bulk quantities.
Choice of Window Style
All of the medical claim envelopes featured in this collection come with a single front window. Depending on the style, the window may be situated higher or lower and some styles offer a slightly slimmer window.
Tinted for Security
Security is of the utmost importance when choosing medical claim envelopes. All medical envelopes offered in this collection include black tinted interiors to keep envelope contents hidden from public view.
If you have any questions about any style of medical claim envelope or about our custom envelope printing, please contact our service reps at 855-632-8520 or [email protected].
---