Printed Catalog Envelopes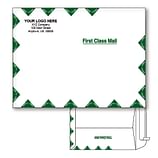 Make Supplies Shops your online resource for quality custom catalog envelopes. Browse this collection to quickly find the right size for your mailing project. When you order bulk quantities of catalog envelopes from us, you can go beyond getting plain envelopes to address later. You can have us custom print your envelope order right now, saving you time and effort. Also, if you're looking for custom printed 9" x 12" envelopes, we've got this size available in brown kraft and white wove styles.
Open End for Fast Insertion
Stuffing envelopes can be a chore, which is why it's good to get open end style envelopes that come with flaps in the upright position. When the time comes to put inserts into the envelope, lay it seam side up onto a counter or table and slide inserts inside. After that, it's a cinch to fold the flap over and seal the contents securely inside.
Standard and Airmail Styles
This collection includes the standard plain design envelope and Airmail envelopes. Plain custom 9" x 12" envelopes and other sizes come in brown, gray, or white. If you order custom airmail envelopes, these come in plain white with the familiar green triangle border.
Do you have questions about our custom envelope printing or something else? Contact us by phone at 855-632-8520 or send us an email at [email protected].
---