#6-1/4 Remittance Envelopes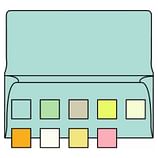 At Supplies Shops, you can find #6-1/4 remittance envelopes featuring the classic open side design. These are the same envelopes used by companies and organizations to store and secure money, coupons, or other types of inserts. We offer these specialty envelopes in white and other colors to give you options for matching the envelope color to specific campaigns or event themes. They typically come in boxes of 500.
Keep Donations Private & Secure
Whether you need one box or numerous boxes of this 6-1/4" envelope size for private donations, you can count on them being safe and secure for holding paper money or checks. Made of sulphite acid-free paper, each envelope has two side seams and an extended flap with a remoistening seal. Once inserted inside, donations remain hidden from view thanks to the windowless design.
Other Uses
Well-constructed remittance envelopes can be used for general money collection. However, they can be put to good use in other ways. Turn them into coupon holders, mail order insert holders, or use them as a means for customers to send in subscriptions.
Check out our custom envelope printing to boost the look of your remittance envelope order. We can be reached at [email protected] or 855-632-8520 whenever you wish to discuss added services or get your questions answered.
---