#7H Coin Envelopes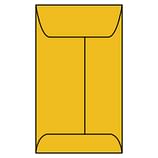 Create extra storage space for smaller items with supplies of #7H envelopes. This size is the largest of the coin envelope group, and there are plenty of ways to put them to good use. Measuring 3-1/2" x 6-1/2", these envelopes are suitable for coin collecting and much more. We offer this size in standard bulk quantities and super bulk quantities.
Store Dry Goods & Seeds
Coin envelopes have long been used for storing other types of items and one of those practical uses is the storage of dry goods. Coin envelopes make awesome containers for storing seeds. They are similar in design to seed packets, and they have gummed labels for sealing. This envelope size can also be used for storing seasonings, or any other type of dried substance.
Reduce Small Item Clutter
Are you tired of losing track of small parts due to clutter? Store those small parts, or loose components, inside of #7H envelopes. It's a good way to keep those parts organized and out of the way until they are needed.
As an additional service, Supplies Shops offers custom printed envelopes. You can find out more about this by messaging us at [email protected] or by chatting with us at 855-632-8520.
---