#2AA Coin Envelopes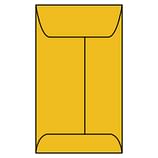 Small, but not the smallest, the #2AA envelope size is a good small size to have around for all sorts of practical storage uses. They are constructed similarly to their larger mailing envelope counterparts, but these are not suitable for mailing. However, these coin envelopes can provide a place to store smaller items that need a protective cover. Bulk order your #2AA envelopes from Supplies Shops to enjoy wholesale pricing.
Organize Your Valuable Collectibles
Never fret again over how or where to put those small collectible items that you want to organize. With supplies of #2AA coin envelopes, you always have someplace to put your treasures. For instance, this size is perfect for storing and protecting collectible stamps. Alternatively, they can be used for collectible coins, collectible pins, rare seeds, or other collectibles of a small size.
Store Loose Parts
Small envelopes such as these are great for storing any type of small loose part that requires separate storage. Constructed from quality kraft paper, these envelopes are sturdy and durable for part storage.
Let us know if you need help with your #2AA coin envelope order by emailing us at [email protected]. If you need printed envelope customization, we can assist by phone at 855-632-8520.
---