Coin Envelopes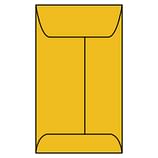 A long time ago, someone came up with the brilliant idea to create a special size of envelope for holding loose change. Since then, coin envelopes have been a popular staple for businesses, churches, organizations and homes. Due to its near perfection, the basic design of the coin envelope hasn't changed. This style is still made of heavy-duty paper to ensure envelopes can hold numerous coins without buckling under the weight. What has improved over the years is the number of money envelope sizes available. Our money envelope measurements range from #00 to #7H, and we leave it up to you to determine what size works best for collecting monies or other uses. We offer a full range of standard coin envelope sizes for every conceivable use. Find the popular 1A envelope size and many more. Many of our customers already love our envelopes and we aim to please with quality and durability.


Keep Coins and Bills Secure
Traditionally, coin envelopes are used to, well, collect coins for donations, or to simply be a means of keeping track of loose change. Despite the increasing use of digital payment methods, currency in the form of coins and paper money is still very much in use in our society. So, as long as that's the case, you can continue to rely on our durable, sealable coin envelopes to keep track of currency and protect it from prying eyes.


Sized Just Right for Small Items
The beauty of small envelope sizes is that they can be used for more than one thing. This is the case for coin envelopes. Despite the name, people find them useful for storing all sorts of little items that would normally get lost or create messy clutter. Consider using these envelopes for storing and organizing items such as nails, bolts and screws, thumbtacks, jewelry beads, stones and metal backing or wires, paper fasteners, small machine parts and numerous other small items. For open-end versions that offer easy access, choose these small thumb cut envelopes with no flap at the top. The companion envelopes to coin styles are the jewelry envelopes with longer flaps and square lens envelopes. Choose the right assortment of envelope options in your order to make sure you have everything you need to do business.


Organize Dry Goods
Many people have found that coin envelopes are convenient for holding dried and powdered substances. For instance, they can be used for protecting and organizing a collection of spices for cooking. They're also useful in lab settings for storing various substances that don't require high-level safety storage.

Don't forget we also offer custom labels, custom envelopes, custom filing folders as well as custom business forms.

Get FREE SHIPPING on all orders over $99 and save big. Do you have questions? Contact us by email at [email protected] or call us toll free anytime at 855-632-8520.
---