Pressure Seal Tax Forms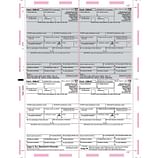 Preparing and issuing tax forms to employees and contractors for your business is a necessity for businesses of all sizes. Fortunately, you can save money by sending your own tax forms. Supplies Shops makes this possible by offering an array of pressure seal tax forms, which are also known as snap pack tax forms.
Official Tax Form Designs
Our pressure seal tax forms are designed to be used by any business entity in the United States. They feature the standard IRS tax form numbers and boxes for filling out required IRS information. Forms may also include detailed instructions for the recipient, making the form useful for filling out personal taxes. All you have to do is print your business information and employee/contractor information on the forms.
Find the Forms Your Business Needs
We make it easy to quickly find the exact tax form numbers you need for your business. Form numbers are listed first for fast identification. Click on the form number or image for a better view of what the form looks like.
Be sure to check out our pressure seal checks for business.
If you have any questions about these tax forms, we can help at [email protected] or 855-632-8520.
---