Multipurpose Pressure Seal Forms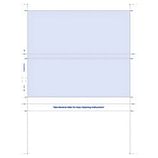 Multipurpose pressure seal forms, also known as snap pack mailers, can be used for any number of things. Aside from the standard payroll and tax form applications that tend to use specialized forms, multipurpose pressure seal forms are commonly used for direct mailings. Companies can send items such as coupons, rebates, and company information neatly folded and sealed securely. When your sealed content arrives at its destination the recipient must tear off the perforated edges to access the information within.
These forms often include blockout backs, which create a barrier to viewing printed content inside. We offer several folding configurations, including C fold, V fold, EZ fold, and Z fold.
Multipurpose pressure seal forms save time and money when preparing mailings. Get your multipurpose pressure seal forms from the Supplies Shops and save big on larger bulk orders!
---