Laser Checks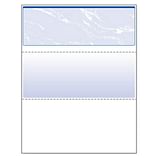 Blank business checks are a necessity for making payments, and this is an area where making the right choice is essential. This is a case where the laser check paper and the check design must be of the highest quality available. Supplies Shops is here to help you find the most visually appealing and most secure check paper available. Why trust us? We've done extensive research to find superb paper for checks that is suitable for any type of business.
We know that a check is not just a payment document but also a document that represents your company. Ideally, you want your check to maintain its polished appearance as it goes through various processing steps. This is why we include a variety of modern laser check styles with exceptional color and design. Whether you choose a classic style or a style with a bit of artistic flair, your check is sure to look professional.
DocuGard business security checks are "Check 21" compliant and provide highly secure documents at an outstanding value. Quicken, QuickBooks, PeachTree, and Microsoft Money are some of the well-known financial software brands that are compatible with these blank check paper selections. Find your style and order bulk quantities of laser business checks from us today.
Supplies Shops also has Double Window Envelopes for mailing your printed checks.
---